i have a lot to say but first thing's first. below are pictures of some of the amazing stuff i've been eating lately: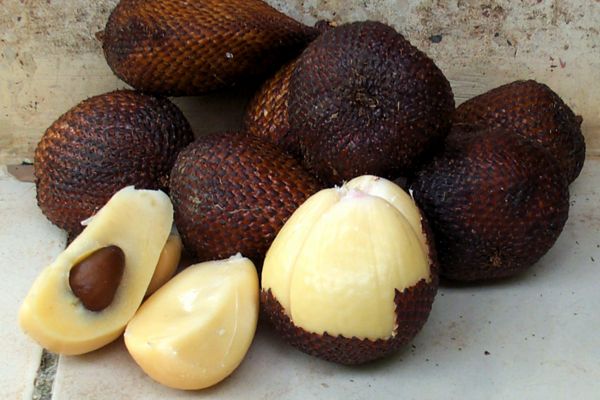 the cake is called martabak manis. it is like a sweet cakey pancake and the crust on top is really buttery and then there's a layer of chocolate and then i don't think its the same in this picture but on the one we ate there was another layer of cake and then there is more cake with cheese on top. now i know it sounds weird to eat cheese on cake but let me tell you, it doesn't even taste like cheese and it is SO GOOD. if i could eat one thing for the rest of my life until i die it would be martabak manis.
next there is some fruit. the orange one is called markisa, or more commonly in the us passionfruit. you take the pod between your hands and smash it open and then pull the two halves apart and suck the little fruits out. SO DELICIOUS! i love it. then there is salak. you peel off the snake-y looking skin and bite into a fruit that tastes like an apple and a grape combined. inside the fruit there are 3 sections and each section has a large brown pit that i imagine would kill a bird if you threw it hard enough.
ok, so back to this week....
monday was independence day, which i already wrote about. on tuesday, i went to immigration with my liaison heidy and my "cousin" wendy. i can't even begin to describe how happy i was that i was going to miss school. we had to fill out 3 forms that were all more or less the same, but on the last one it asked for your face shape.. after we were all done filling out papers and taking pictures and waiting around we drove to a mall and met up with a bunch of the AFS volunteers and omar. it was really fun. we ate frozen yoghurt (i think this is my new favorite frozen treat) and walked around the mall for a bit. we went into the arcade and played games. this was a new experience for me because i never go into the mall arcades in utah. usually the only people who go there are creepers and stoners. in the arcade we did this bowling game, and we figured out if you throw the second ball right after the first you can hit all the pins you missed before the game realizes whats going on so you get a strike every time :) haha. after that, it was time to go home. i hadn't been home in like 6 or more hours so i guess it was high time. when we got home i ate dinner. i wanted to be adventurous so i loaded up my noodles with super hot sambal. my mouth, tongue, throat, and ears were on fire. i've never eaten anything that was so spicy i could feel it in my ears! it actually kind of feels good though, in such a strange way. after that i got all cleaned up and went to bed..
wednesday was my first real day of school, like where i actually have class. i had to cross the street between diandra and dieva's school by myself, which terrified me a little. the traffic is so insane its really rather treacherous to just cross the road. luckily there is a traffic cop who helps the desperados (like me) out. i met up with my friends and got to class alright. in class everyone started to freak out because there was a cockroach in the room scurrying around and it was nasty. the teacher calmed everyone down and they forgot about it pretty quick. after our first class was over, me and olive and fima and sendwi and vanya sat on the floor and they taught me some vocabulary (most of which i promptly forgot)and then they started playing clapping games and doing these traditional sundanese clap-dances. i call them clap dances for lack of a better word. they're really cool though and they tried to teach them to me but its so hard! after that we ate lunch and then we had math, which i actually sort of like, because it stimulates my mind. after sitting like a lump through almost every class it feels good to have something to do. after math we all sat outside and waited to get picked up. everyone came over to help me with my homework, and it was really fun. while sendwi was in the bathroom we went into my room and vanya got the idea to hide and i got the idea to hide in my closet. it was so hilarious and we were all laughing into our hands, especially when we heard her yelling for us. vanya peeked out the door and screamed-sendwi was in my room. hahahaha it was so funny. that night me and diandra watched memoirs of a geisha, which i really liked. i've heard a bunch of mixed reviews about it but i loved the book and really liked the movie. while we were watching wendy brought us martabak manis. mmmmmm so good!! that made the whole movie better actually.
thursday (today) i didn't have school. sweet! so i slept in and for breakfast ate a piece of sweet bread (all the bread here is sweet, its so good) with strawberry jam and one piece with their version of nutella, which is more peanut-y tasting, with chocolate sprinkles on top. it was incredibly good. there is a little lizard, a cicak, that lives in my room and i saw him this morning :) i got a call from home and dad told me i should name him pete, so now he is officially dubbed pete. he is the cutest lizard ever, about 5 inches long, and sort of grayish colored. so..i really didn't do much today. i chatted with vivian on facebook and we both agree that as soon as we're situated here we're going to take buses to visit each other. i can't wait for the day... i also can't wait for saturday morning, when we have another orientation, this time for a couple more days than last time and with the rest of the AFS kids. can't wait!!! its going to be so fun. :)